Enterprise Document Solutions is a team within OIT: Enterprise Application Services responsible for the administration of the university's electronic document tools. This includes Perceptive Content, DocuSign, and other document management technologies. Our primary duties involve administering the enterprise Perceptive Content instance, ensuring the service is performing optimally for all of our partners, and administering the university's DocuSign contract.
We also work closely with our partners to help them develop and implement new solutions within Perceptive Content and DocuSign to improve their business processes. By working with our partners and understanding the business needs, we provide first-class service to our partners, ensuring they are getting the most from our tools.
Our Leadership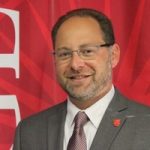 The Enterprise Document Solutions team is led by our Assistant Director, Brandon Singer. Brandon oversees multiple teams, including the Enterprise Document Solutions and Banner Administrative Services teams.